---
When One Door Closes, Another Opens
By Karen Winstead, CNM
Photo by Alicia, NLBC, 2019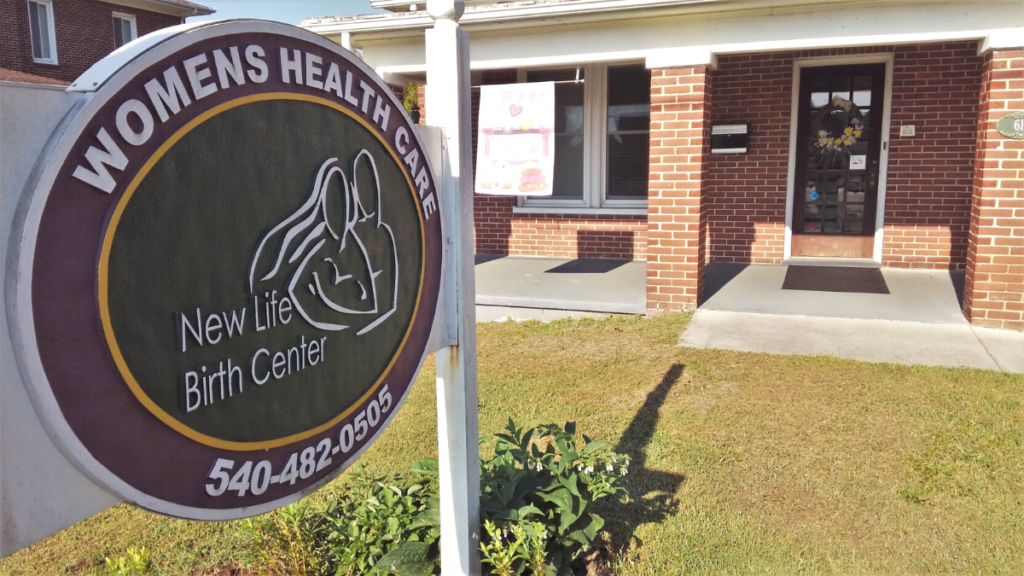 As providence would have it, the small hospital in Rocky Mount, VA where I was working as a nurse at the time decided to close their obstetrical unit. There were 4 of us on the Board of Directors (BOD) who lived in Franklin County.
Realizing there was no option for birth in the county, it was decided to open the center in Rocky Mount. We could start smaller and had a physician willing to be our medical director.
Finally, the next path on my journey was revealed.
There was a house on Main St. that had been converted into a commercial building. It had sat empty for a couple of years. One of our board members had the funds to purchase the building and gave us a free lease for the first few years with a graduated build-up to the full commercial lease. Many volunteers, with the help of the owner and local contractors, moved walls, cleaned, painted, created a handicap entrance, and completed other projects to get our building up to code and suited for a birth center.
I and my assistants all volunteered the first year or so. Gradually we built up enough clients and contributions to hire ourselves as employees.
It is with a heart full of gratitude to the many people who have supported us over the years and with thanks to God that I write this account.
For it was not a labor of love just for me, but for many of the others who have labored to bring New Life Birth Center to fruition.
We opened the doors of New Life Birth Center in 2012 with our first baby delivered May 22, 2012, my 30th wedding anniversary. We had nine births that first year. Because our marketing was done in Roanoke and because the area is more rural, it was a slow start, but we have steadily seen an increase as women have learned about our services.
We have been privileged to care for 175 women in labor, not only from the Franklin County area, but as far away as North Carolina and West Virginia.
For other women, we have provided pre-conception and gynecological care. Our birth assistants have served as doulas for those women who choose to deliver in the hospital. We have provided breastfeeding support and include newborn care in our services for new moms.
Our well-woman care meets the needs of women seeking a breast exam, a physical, or some blood drawn. We also offer free pregnancy tests and pregnancy counseling.
For those unsure about what type of pregnancy care they want, we provide free orientation sessions along with referrals to other providers who provide home and hospital care.
To learn more about the services New Life Birth Center provides to women and families in the community, visit the Our Services page or give us a call to schedule a free birth center tour and orientation at 540-482-0505 today!