---
By Chrys Collins, RN, MSN Ed, CRRN
Photo courtesy of Lisa Stockton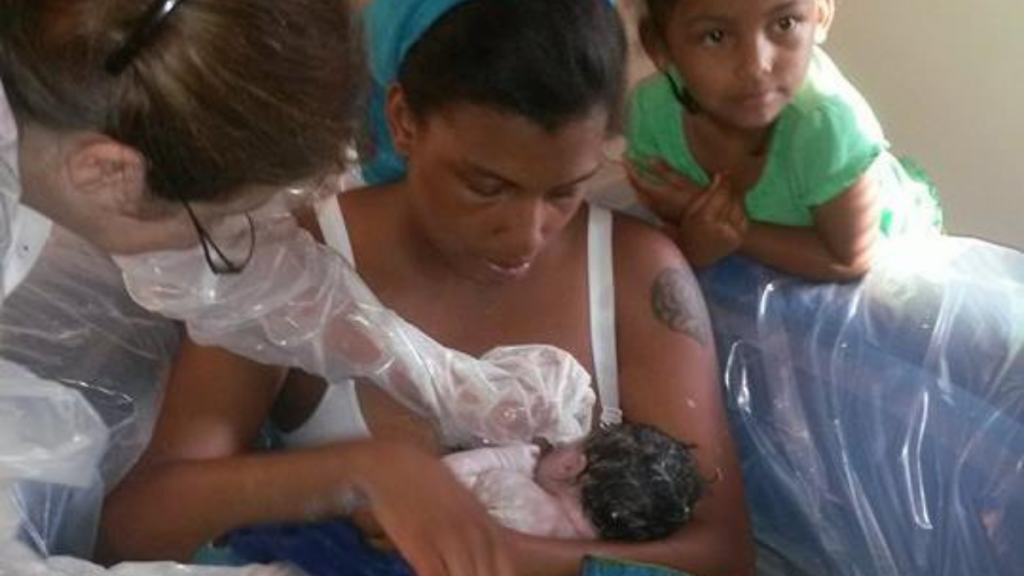 In 2004, 22-year old Tameka McFaquhar, a Black Army specialist who immigrated from Jamaica, gave birth to her first child at Samaritan Medical Center in New York.
A few days later Tameka was released home with her newborn baby. Single and having no family nearby, she went home alone.
Tameka spoke with her mother by phone on December 19th, telling her that she was tired and had a headache. That was the last time her mother spoke with her.
Six days later, concerned because no one had heard from Tameka, her mother requested a well visit from local authorities. Both Tameka and her baby were dead. Tameka had died from postpartum complications without anyone knowing.1
Countries that demonstrate low maternal and infant mortality, such as New Zealand, Great Britain, and Austria (to name a few), incorporate home visits to new mothers during the first days following delivery. Had Tameka and her baby received such services, they could have avoided becoming part of the tragic statistics of U.S. maternal and infant mortality.1
Maternal death is defined as a death that occurs anytime during a pregnancy and for the first 42 days following birth or the end of a pregnancy. Did you know in 1990 there were 553 reported maternal deaths in the United States alone?2
Since that time, health care advancements have increased at a rate difficult to keep up with. So, it would be logical to assume that the number of maternal deaths would decrease with advancement, right?
Sadly, that is not the case. By 2015 that number reached a staggering 1,100+ maternal deaths, and these numbers do not even include infant mortality.2
According to an article published by the Centers for Disease Control (the CDC), there was a small improvement by 2020 wherein the number of maternal deaths declined to 658.2 I believe it is possible that reporting and data gathering have improved, and that may account for some of the changes in numbers. However, these deaths still do occur, and the numbers remain under-reported.1
What's more, of those deaths, non-Hispanic Black mothers die at a rate of twice the national average and two and a half times greater than that of non-Hispanic White mothers.3
What is the underlying reason for these disparities, and what can be done to make a difference to improve outcomes for mothers and babies? The causes are not always clear, but addressing the unique needs of Black mothers both psychosocially and physically might be a place to start.
So, what is the solution?
It would seem that current medical practices are failing Black mothers. But it isn't that simple. Improvement in health care practices can certainly improve some outcomes, but health care is not only about medicine.
Medical treatment must include the person as a whole, including their individual needs, their family, their community, and their own autonomy in personal decision making as part of the health care team.
This type of care can be found in the midwifery model of care. This model provides an individualized framework to monitor, educate, and care for women through their childbearing while minimizing unneeded intervention.
The midwifery model of care certainly offers a more rounded and whole approach to the needs and care of women in pregnancy. However, is it enough to address the gaps that exist in pregnancy outcomes related to ethnicity? Is there more that can be done to make a difference and prevent ethnic-related disparities and negative outcomes for mothers and babies?
In honor of Black History Month, New Life Birth Center is taking a look at ways to help decrease negative outcomes, learn better ways to serve women of color, and share what we know and learn with you in this series.
We look forward to exploring this important issue with you in the coming series. We'll bring you interviews with some precious ladies of color who have been open and willing to share their time and ideas with us.
Together, we can make a difference in our community and build an environment of understanding and equality, where every person feels empowered to respond to the call to "love your neighbor as yourself."4
---
References:
1 Masking maternal mortality. (2008, April 1). Ina May Gaskin -. https://inamay.com/masking-maternal-mortality/
2 Belluz, J. (2020, January 30). We finally have a new US maternal mortality estimate. It's still terrible. Vox. https://www.vox.com/2020/1/30/21113782/pregnancy-deaths-us-maternal-mortality-rate
3 First data released on maternal mortality in over a decade. (2020, January 30). Centers for Disease Control and Prevention. https://www.cdc.gov/nchs/pressroom/nchs_press_releases/2020/202001_MMR.htm
4 Leviticus 19:18; Matthew 7:12 and 22:36-40; Mark 12:31; Luke 10:25-37; Romans 13:8-10; Galatians 5:14; James 2:8
---
---