---
By Keisha Graziadei-Shup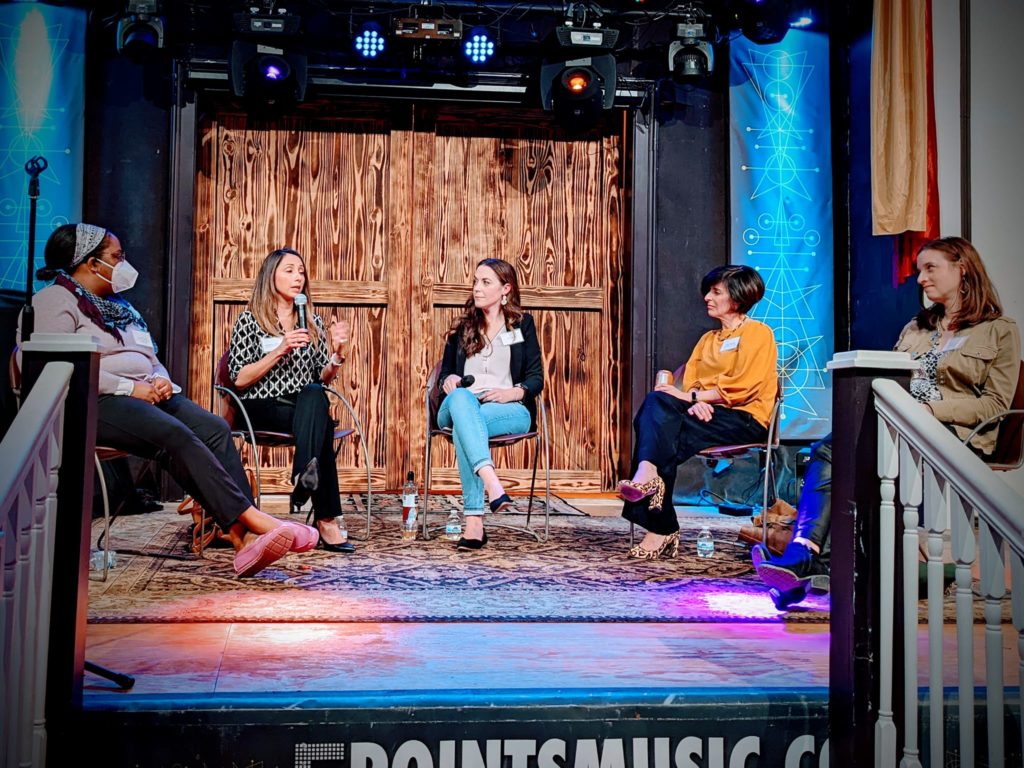 A few of us from New Life Birth Center recently attended the Huddle Up Moms' (HUM) community exchange event on February 17th at the 5 Points Music Sanctuary in Roanoke. It featured a great panel discussion about what it means and looks like for women to advocate for themselves in their birth space, work place, doctor's office, and relationships. (This is not to mention the complimentary finger foods, and drinks available for purchase – thank you, HUM and Three Notched!)
So, how DO we get the help we need, in all the ways???
Thankfully, the women on this panel had some thoughts, including:
Dr. Natalia Cook, mother, assistant professor of public health, full spectrum doula, and advocate for ending the Black maternal morbidity/mortality crisis;
Josephine Villacreces Arbaugh, mother, architect and urban designer;
Dr. Nina Sweeney, mother and family medicine physician; and
Nanda Davis, mother and attorney specializing in divorce and custody cases.
Are "super moms" real?
Dr. Cook helped us think about the term "super mom." She argued that while maybe it sounds flattering or empowering, it isn't actually real. We are human, not superhuman, and it's important for us to think about how to get help and care for ourselves when needed.
"In order to take care of those around us, we need to be filled up, too," said Dr. Cook.
A mother's need to advocate for herself can emerge in numerous and varied ways. Davis emphasized the importance of advocating for needs in the small ways in addition to the big ways.
For example, Davis admitted to the stressful frenzy she found herself in, morning after morning, till she remembered that she could delegate some things! So, she asked her husband to be in charge of packing the kids' lunches. Then she could get a few quiet minutes to herself each morning, preparing to tackle the day's challenges.
"It may mean they get a few more gummies than I'd prefer, but, you know what, that's okay," she laughed.
Communicating is better than assuming
Davis reminded us that our spouses can't read our minds – no one can! So, it's better to communicate. Furthermore, there's a difference between having an attitude that says, "Don't you see I do everything around here? Why don't you help?" and simply expressing that we're struggling, and asking for specific help.
Arbaugh, who is well acquainted with the need for women to advocate for themselves in the corporate context, recalled a story in which her colleague was raising her voice at her, which this woman often did. Arbaugh responded calmly and professionally, "Please don't raise your voice at me. I'm standing right next to you. Next time I will walk away."
She explained that while it may seem easier or more natural to respond passively, defensively, or aggressively, that having healthy boundaries like this is really the most empowering thing for everyone. Her colleague became aware of herself and stopped this behavior.
Advocating at work
Furthermore, as a female and a minority, being in a male-dominated environment has brought Arbaugh significant challenges and opportunities to advocate at work.
For example, when the only option for pumping was to use the (communal) break room next to the conference room, she was able to make a case to install a pumping room in every department at her architecture firm. The women even got to design and style these spaces just how they wanted. This way, they could enjoy some discretion while their pumps were running, instead of it being an awkward distraction for all the men meeting in the conference room on the other side of the door.
Another time, she discovered that her male colleagues got a larger bonus than she did – men who had the same level of experience and expertise. She was very upset, and even though she was incredibly anxious she decided to approach her boss. Calmly and professionally, she explained that she and her colleagues talked and she knew they got a bigger bonus and asked why. Her boss initially looked at her "like a deer in headlights" and ultimately decided to compensate her for the difference.
In order to pull this off, she reminded us, it's really important that we understand our "market value" accurately. We need to do our research and know that we contribute to the company proportionate to the pay we're requesting.
As another example, when Dr. Sweeney was feeling powerless to balance her family life with her work as a doctor in a hospital setting, she found the courage to leave and start her own practice.
Advocating during birth
Dr. Cook emphasized the importance of a birth plan and the value of a doula. While a birthing person cannot predict how a birth will go, having a plan can still act as a guide or framework, if not a script.
Also, a doula has presumably spent a significant amount of time with a mother, learning a lot about her – her personality, needs, desires, triggers, culture, and so on, so that when she's in the middle of labor and can't adequately advocate for herself, the doula can step in and help with this.
As a scientist and doula, Dr. Cook identified an important area for progress specifically for tackling the Black maternal morbidity and mortality crisis but which also has broader applications: "Finding the best balance between science and cultural wisdom is, I think, really where the magic will happen."
She highlighted the importance of women having doulas and other providers who look like them, or have other shared cultural qualities, to help them feel safer and more connected to their birth experience.
Firing your provider
Furthermore a woman can, even in the middle of labor, fire her nurse or any provider if she needs to. While this probably isn't something anyone hopes to do, there are civil and professional ways to do it. Sometimes it's just not a good fit and needs to be done. At the hospital, it's as easy as trading out for the next doctor or nurse.
Dr. Sweeney emphasized the importance of communication, honesty, and vulnerability in these cases, sharing an example of having to "break up" with a doctor colleague who also happened to be her dear friend's husband – awkward!
Final thoughts
In the end, we found these words of wisdom, illustrated by personal vignettes, very helpful. As the women on the panel said in many different ways, if we're honest, we don't have it all together. It is a sweet thing to learn from the lessons, successes, and wisdom of other women who have gone before us. Leveraging our resources to connect with others and then sharing the pain points and hard parts of motherhood can create real connection.
We look forward to future Huddle Up Moms events and hope you'll join us at the next one!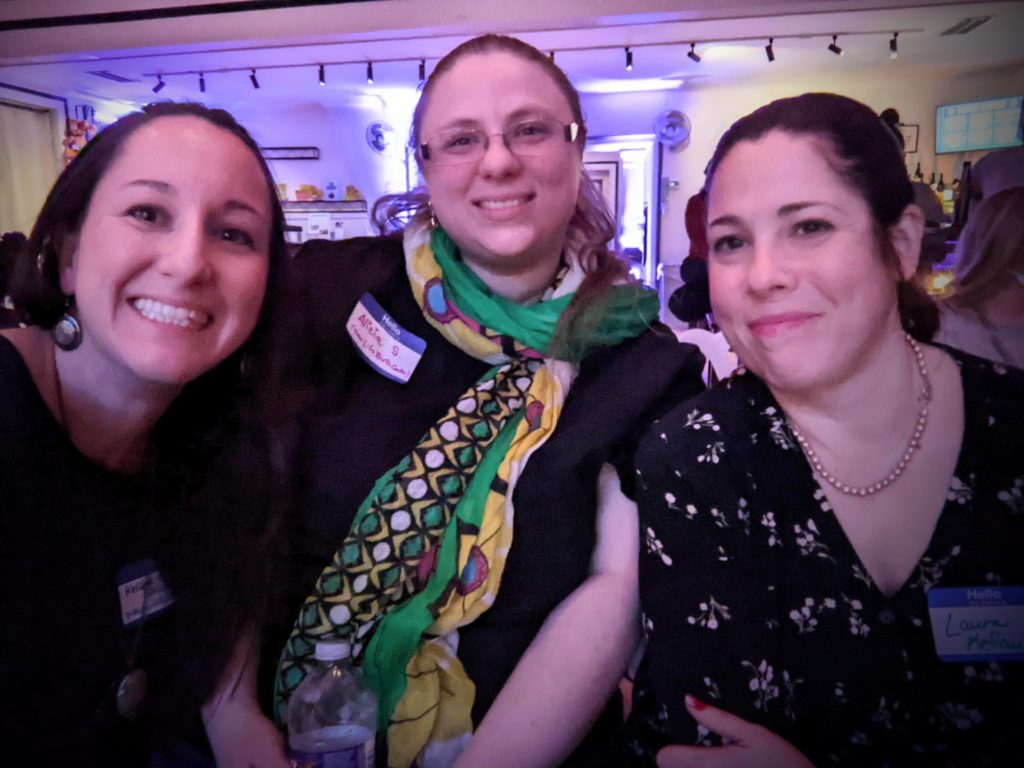 ---