---
An Interview With Kayla Acosta
By the staff of New Life Birth Center
Photo from Kayla's personal collection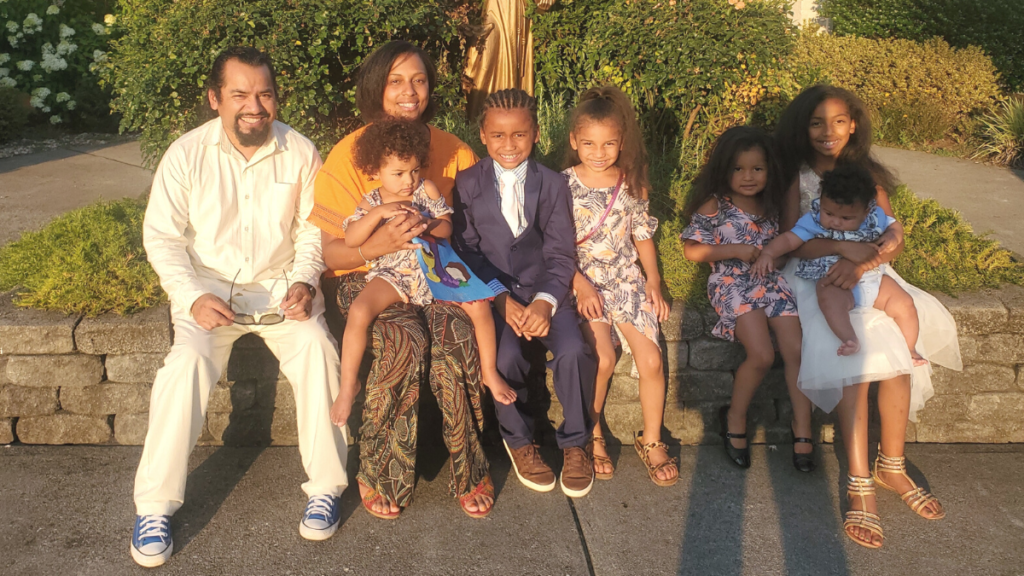 Kayla has been a client of New Life Birth Center since the birth of her second baby in 2012. She and her husband Juan are the proud parents of a half dozen blessings, the five youngest children all born at New Life Birth Center!
With a wealth of birth center, parenting, and life experience to share, we are delighted to bring you this interview with Kayla. From the benefits of a multi-generational support system to her thoughts on advocating for Black mothers and families, Kayla has much to bring to the table.
So, grab your favorite warm beverage and pull up a comfy chair to join us as we sit down to chat with this mother of six.
---
Let's get to know you. Does your family have a favorite Bible verse?
Our favorite bible verse is familiar to anyone who follows New Life Birth Center:
"Lo, children are an heritage of the LORD: and the fruit of the womb is his reward. As arrows are in the hand of a mighty man; so are children of the youth. Happy is the man that hath his quiver full of them: they shall not be ashamed, but they shall speak with the enemies in the gate."
Psalm 127:3-5
My favorite Bible book is Proverbs.
Tell us about your support system and the difference they made during your pregnancy, birth, or postpartum experiences?
My husband has been the constant, unwavering support person for the birth of each of our children. Even though we were both nervous and really had no idea what to expect when our oldest was born, we forged through pregnancy, childbirth, and postpartum together learning from our experiences along the way.
My support system spans across a few generations. My Great Grandma (Curly Shirley), my Granny (GiGi), and my Mommy (Mama Lisa) make a big deal about spoiling me during my pregnancies and lending a helping hand during postpartum. Whether it be surprising me with my favorite meal or stopping by to watch the kids play so I can run errands or even just take a nap, they have always been there to help in any way they can.
My husband and I take comfort in the fact that our children have such a close relationship with these women who have been the most influential in my life.
What motherhood wisdom did the older women in your life share that blessed you?
The best motherhood wisdom that I received from older women in my life is to cherish the blessing of motherhood. It's easy to get caught up in our routine and take things for granted.
Another sentiment that I hear often is how important it is to play with your children. Time spent with your family is never wasted.
Did you face any challenges from friends and family when choosing the birth center? How did you overcome these challenges?
I wouldn't say it was a challenge so much as it made for a lot of informative conversations when I first shared with my close family that I would be seeing a midwife at a freestanding birth center.
My husband was supportive with whatever I decided so that was all that mattered to me. I wanted my mom to feel comfortable with our decision too because I wanted her to be available to support me during labor.
From the first time we met Karen and took a tour of the birth center, my mom knew I was in qualified hands which instantly put her at ease.
You have six children; how was each birth different?
As a mother of six, each birth was pretty standard. I never experienced any complications during labor or delivery.
After my third birth, probably as a result of how I started preparing myself during pregnancy, I began having precipitous (rapid) labors. From the first contraction to birth, our fourth was 2 hours and 2 minutes, our fifth was 2 hours and 14 minutes, and our sixth was 3 hours exact.
After our fourth was born I began preparing myself for short labors. That made a big difference in my postpartum mental and emotional recovery.
Why is it important for women to share their birth stories?
It is important for women to share their birth stories to change the narrative surrounding childbirth.
Often women only hear horror stories about labor. We're warned about the intensity of contractions, how long and exhausting labor, particularly first labors, can be. Mainstream society tends to encourage women to look forward to epidurals instead of preparing ourselves mentally to rely on the hormones our bodies release naturally to help us cope with the physical demands of labor.
As more women who embrace natural childbirth share our birth stories, we can cultivate a generation of future mothers who no longer fear pregnancy and childbirth.
Any advice for moms considering natural birth outside of the hospital?
If you are considering natural birth outside of the hospital, remember that your body knows what to do. From personal experience and from all the births I've witnessed, it's usually a short while after you start to think that you just can't do it anymore that the baby is born.
Personally, birth is about 20% physical and 80% mental. So as long as I am mentally focused and tuned into my body, I can manage the physical aspect. I think this is true for many women.
It can take time to train your brain (because we are taught to avoid pain at all cost, embracing the "pain with a purpose" can seem counter-intuitive), so I would recommend starting any meditations, mantras, or breathing techniques during your second trimester and definitely by the start of your third trimester. When you're in labor, all that you've practiced should be second-nature.
What other wisdom would you like to share with moms?
My favorite mantra is, "The days are long, but the years are short."
As our oldest recently turned ten, I see just how true that is. Parenting can be exhausting and daunting, especially if you get too far ahead of yourself planning for the future.
It's good to have plans and be prepared for different situations, but it's so important to live in the present and not allow worries about the unknown to steal your happiness in the moment.
Do you have any tips for other mothers of large families?
Routines are important but flexibility is key. Children respond better when they know what to expect, however, we all have moments and days when we just want to be spontaneous.
Certain things, obviously, need to be non-negotiable (hygiene and manners, for example) but for your own sanity you have to be willing to be relaxed with other things. (I never thought I would say it but mismatched socks no longer bother me). The more children you have, the more you have to remind yourself to choose your battles.
The most important advice I would share is don't be too prideful to apologize to your children. Children tend to be more forgiving than adults and they are very understanding especially when you are honest with them.
Also, self-care is essential! Whether it's a walk in your neighborhood, a weekly coffee date with your friend, or my favorite, locking yourself in the bathroom for a long soak in the tub with a good book, do what you need to rest and recharge. You can't pour from an empty cup.
How does New Life Birth Center continue to play a role in your life?
New Life Birth Center is my go-to for my women's health care needs.
November 27, 2014, I began orientation as a midwife's assistant and since then I have had the honor and privilege to assist at 42 births (and counting).
The birth center staff has become a part of our family. We pray for each other daily, support one another through our challenges, and are genuinely happy when one of us achieves a milestone.
What would you say to other moms considering New Life Birth Center?
If you are considering New Life Birth Center, I would encourage you to keep an open mind and realize that our goal is to give you the information you need to make the decisions that are best for you and your baby and provide the support you need along the way.
We have been taking the time to reflect on equality and justice during Black History Month. Please share your thoughts: How can our community better advocate for Black mothers and families?
Our community can advocate for Black mothers by meeting us where we are emotionally.
Non-POC (people of color) must understand that there is an often unspoken but well known fear that Black mothers bear about raising our children. Our biggest fear isn't that they'll break a bone, that someone will break their heart, or that they'll develop a terminal illness.
The biggest fear that Black mothers have is that our children's lives could be snuffed out by someone based solely on the color of their skin. This constant fear simmers under the surface everywhere we go and has an undeniable influence on how we parent and prepare them for the world.
People who want to advocate for Black mothers can start there, while acknowledging that words alone will do little to assuage this fear. Knowing that there are others who share our burden and are willing to put action behind their words will help break down the walls of distrust, suspicion, and fear. Only then can we move to address other issues.
---
Kayla, thank you for sharing your experiences and wisdom with us. We are so thankful to have you as part of our New Life Birth Center family and to have been given the chance to serve you through five births and, as the LORD wills, perhaps more in the future! We pray the very best for you and your family.
Learn more about Kayla's role on our team and get to know the other NLBC birth assistants on our MEET THE STAFF page or find out more details about how we care for families at WHY A BIRTH CENTER?
---